Kulinaaria Instituudi eesmärk on olla kõrgete kulinaarsete kunstide arendamise
keskus Eestis.
Cafe Truffe is a café-restaurant which was opened in the heart of Tartu in the 15'th of July in 2005. We treat our customers mostly with mediterranean kitchen. We also have a wide variety of coffee drinks, wine list, cocktail list etc.
Within many years Cafe Truffe have had many avowals – the most recent is "The 50 Best Restaurants" 1. place in Tartu.
Cafe Truffe has an innovatory design. Besides the relaxing invirenment You can cherish your gustations. Quite special is the fact that Cafe Truffe has two Chef de Cuisine – Joel Ostrat and Jorma Riivald. Love goes through stomach and satisfied customer is our biggest bless!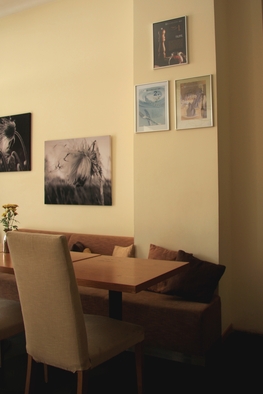 truffe

Raekoja plats 16, Tartu
Telefon 742 8840
cafe@truffe.ee